Calcium carbonates beneficiation
After extraction from the ground, minerals must be made ready for direct use or further processing. Mineral processing includes the following:
• Comminution - the gradual reduction of a hard mineral to a fine powder or dust by crushing, grinding, or attrition for direct use or further processing. This includes liberation of a product, such as coal from non-coal material. It also includes primary crushing, where run-of-mine ore is reduced to a size small enough to feed a secondary crusher and rock is broken down to an adequate size for grinding. During grinding, rock may be mixed, with or without liquid or grinding media, in a rotating cylinder or conical mill where it is reduced to fine particles.
We provide stone crushers and Grinding mills, Vibrating feeder, Jaw crusher, Vibrating screen, Magnetic vibration-actuated, Ball mill, Spiral classifier,High-frequency vibrating screen,Flotation separator, Wet concentrator, Filter press, Dryer for Calcite mineral processing. If you need any Calcite processsing machines, please contact us.
• Makedown - the conversion of extracted soft rock minerals into a slurry. This may include the application of mechanical work, such as blunging, and chemicals to achieve particle dispersion. • Classification - the process of separating particles of various sizes, densities, composition, and shapes as part of the preparation circuit to control the final product.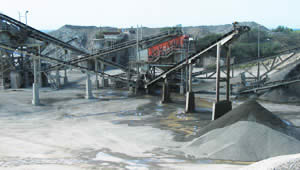 • Blasting and drilling - processes not typically considered part of traditional mineral crushing include those activities associated with identifying optimum locations within mineral deposits for the placement of explosive charges and the detonation of those charges. The shape, size, and morphology of the material coming into the mill can dramatically affect the efficiency of further processing. Blasting and drilling are included under the definition of mineral preparation because of forward thinking by industry on opportunities to improve the efficiency of mineral processing through advanced blasting and drilling techniques.
Mineral comminution requires large capital, labor, and energy costs and may account for more than half of hard rock processing energy costs. The mining industry uses approximately 29 billion kWh of electrical energy annually for size reduction, which is approximately 99 trillion Btus. Energy and capital costs could be reduced through improved blasting and extraction techniques, more efficient motors and equipment, optimized operation, and reduced wear and tear on equipment. A number of research needs involve the development and implementation of new simulation and modeling technologies as well as new methods to reduce the cost of in-process sampling and characterization.