Calcite powder machinery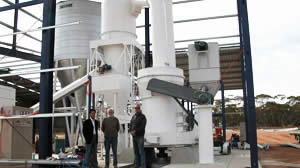 Calcite is one o f the important ingredients required in glass and ceramic industries for imparting glaze and also as a flux . In pulverised form, it is used as a filler in rubber goods , textile and as an extender in paints and as a carrier in insecticides . Other uses are in the manufacture of mortar , cement , bleaching powder, and preparation of fat lime, soaps, detergents, plastics, polymers , etc.
We provide ball mill,raymond mill for Calcite powder manufacturing. If you need any Calcite powder manufacturing machines, please contact us.
Ball mill is a vital tool for regrinding the crushed materials. Xuanshi ball mill is suitable for both dry and wet grinding of various kinds of materials. Currently it is extensively used in many industries, such as cement, fireproof materials, silicate products, new building materials, fertilizers, ferrous metals, nonferrous metals, glass, ceramics, and so on.
Raymond mill is applicable to the grinding and processing of more than 280 kinds of non-flammable and non-explosive materials with hardness less than 7 and humidity less than 6% in mining, construction, chemical industry and metallurgy, such as barite, calcite, feldspar, talcum, marble, limestone, clay, glass. The fineness of the finished product can be adjusted from 100 mesh to 325 mesh according to requirements.