Kaolin beneficiation process
Kaolin beneficiation process
The crude kaolin from the quarry is first made into slurry with water. In general, such processes for beneficiating crude kaolin clay require that the clay be refined via wet processing as low solid slurry. Therefore, it is necessary to add substantial amount of 66-8 water to the dry crude kaolin clay to form a clay suspension or slurry having low solids content, generally below 50% solids by weight and typically in the range of 15% to 40% solids by weight.
This slurry passes through a series of washing and classification steps in order to remove the quartz and mica impurities. Typically, the aqueous crude clay suspension is then subjected to a fractionation operation which is conventionally carried out by centrifugation of the dispersed aqueous clay slurry.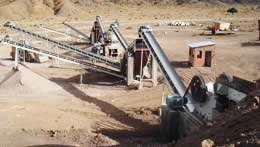 Following fractionation, the recovered aqueous clay will pass through a magnetic separator to remove at least a portion of any iron-based impurities there from. Then the kaolin clay is passing through vibrating screen to be filtered in filter press and the filter cake is pressed into pellet from prior to drying in gas fired dryers. The final kaolin pellets contain 10% moisture in average. These are packed and dispatched to customers in the ceramic, paint, paper and other industries.
A dry powder product is also produced for those industries that can not tolerate moisture, such as the rubber, plastic & pesticide industries. The dry powder is produce by passing the kaolin pellets through attritor and classifies with simultaneous drying with hot air. Water from the drying process is recovered and recycled to the extraction plant through a return water pipeline.
What SBM can do in kaolin beneficiation processing
SBM is a high-technology engineering group with world-leading positions in mining and construction area. We are products have been exported over 160 countries. SBM provide stone crushers,ball mill, vibrating screen and others mining machinery for kaolin beneficiation process.