Kaolin crushers
Kaolin application
Kaolinite is a mineral belonging to the group of aluminosilicates. It is commonly referred to as "China Clay" because it was first discovered at Kao-Lin, in China. The term kaolin is used to describe a group of relatively common clay minerals dominated by kaolinite and derived primarily from the alteration of alkali feldspar and micas. Kaolin is an industrial mineral used primarily as an inert filler and customers combine it with other raw materials in a wide variety of applications.
Kaolin crushing plant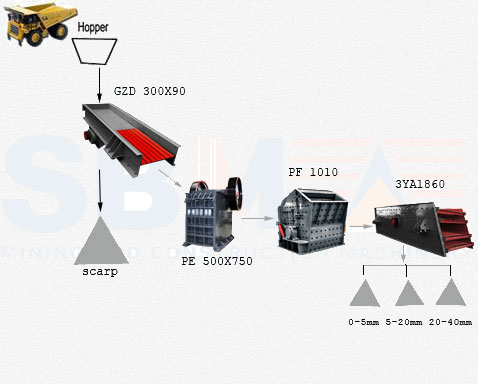 In kaolin crushing phase, According to the different production, there are different crushing equipments to choose. There is a example(left image) show 40-60t/h kaolin crushing line, Jaw crusher PE500*750 for primary crushing, impact crusher PF1010 for sencondery crushing, the materials crushed by impact crusher could be feeding into ball mill for grinding processing. SBM is a professional kaolin crushing equipments manufacturer, if you need kaolin crushers or kaolin production line design, please contact us.