Kaolin mining
Kaolin mining process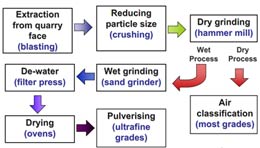 Kaolin was obtained from extracted kaolinite or kaolinite-illitic gritstone or pudding-stone from the "mine U" in southern Moravia using the following procedure (unpublished data): 1. Superficial soil layer (about 50 cm) was removed, and the raw material was floated to a suction pump by water cannon (water source was a pond formed on the surface of the mine after kaolin extraction).
2. It was transported in the form of dense slurry through about 150 m long pipeline with about 20 cm in diameter to the processing plant halls.
3. After kaolin washing, classification and separation steps according to the particle size, kaolin sedimentation, addition of colloid agent, and kaolin drying in wire baskets, the product was finished and could be dispatched to customers.
Kaolin mining Machines
SBM is a high-technology engineering group with world-leading positions in mining and construction area. We are products have been exported over 160 countries. SBM provide stone crushers,ball mill, vibrating screen and others mining machinery for kaolin mining.
If have any requirement about kaolin mining, whatever kaolin mining machinery or kaolin mining solutions design,please contact us. Our products successfully achieved ISO9001 : 2000 Quality Management Certificate and EU CE Certificate.