Marble crusher machine
Marble introduction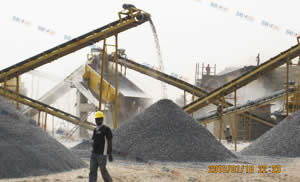 Marble is a naturally occurring stone used in construction industry. In powder paste and tile form it is used for both the interior and exterior decoration and protection of buildings. Marble blocks can be crushed into very tiny pieces called chips which are used in flooring and facing of the buildings. These are processed on completely different machines that include stone crushers of various grades and size cutting chips with size ranging from 0.1 to 5 cm, depending on the requirement and choice of the consumer. When limestone is exposed to high temperature and pressure, it metamorphoses and re-crystallizes into aragonite or calcite in the form of a rock called marble which ranges from granular to compact body in texture . .
Marble crusher machine
We provide jaw crusher for marble primary crushing, jaw crusher is a kind of classic stone crusher used in marble crushing industry, Max inlet size vary 125 mm to 1020 mm, capacity vary 1 ton/h to 1000 ton/h. And we also provide impact crusher, cone crusher, vsi crusher for secondary crushing. if you need any marble crusher machines or have any questions about marble crushing,please contact us.