Marble quarry machines
Marble quarrying with capacity 60-800t/h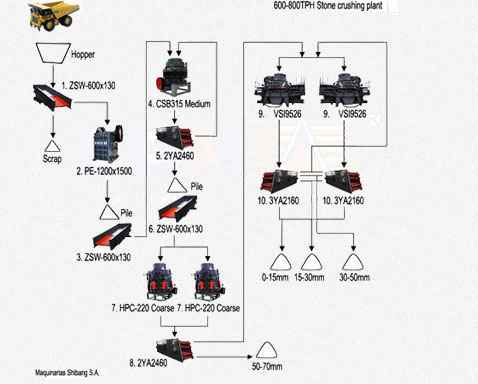 Marble introduction
The Carrara marbles have been sampled at 90% to 99% CaCO3. This, along with the low amounts of magnesium, iron, silica, and aluminum, and the marble's high brightness, makes this deposit suitable for many specialized uses such as paper filler and coater and for the filler and extender markets where purity and whiteness are important.
The black marble and the beds above are dolomite of excellent quality. They should be suitable for specialized refractory use. It is estimated that an average thickness of black plus white marble can be open pit mined to a depth of 160 feet or more on an area of 80 acres. At 12 cubic feet per ton in place, this calculates to approximately 47,000,000 tons.
What can we do about marble quarrying
We can design marble quarry unit with capacity vary 1-1000t/h, in marble 600-800 t/h production line(image) we provide jaw crusher PE1200*1500 for primary crushing, screened by our vibrating screen, marble blocks feeded to CS Series Cone crusher CSB315 by ZSW-600*1340 for secondary crushing. this just a example, if you need marble quarry equipment or marble quarry solutions.please contact us.