Silver grinding machinery
Ball Mill used in silver grinding processing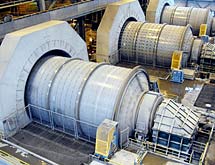 SBM Ball Mill form a significant class of equipment used in the field of size reduction. The slow rotational speed combined with simple and robust construction make them ideal for grinding hard and abrasive materials with low maintenance and minimum downtime.
SBM has for many years been amongst the pioneers in the design and application of ball mills and similar milling systems for the size reduction of a wide variety of materials including minerals, ores, and coal.
We offer a wide range of units in a variety of forms in both Batch and Continuous type for varied applications.
Ball Mills are primarily used for single stage fine grinding. It is a key equipment which repulverises the material after it is crushed. It is widely used in manufacturing industries such as cement, silicate, refractory material, fertilizer, glass and all kinds of wet/dry pulverization of ores and other grindable material.
Vertical roller mill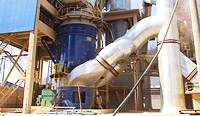 Key benefits
1. 20-50% less energy use than ball mill systems
2. For portland cement, slag and blended cements
3. High productivity with stable, reliable operation
4. Easy maintenance; low maintenance costs
5. Effective drying when grinding blast furnace slag or blended cements with wet components
6. Consistent cement quality with easy-to-adjust quality parameters
7. Long lifetime
8. Simple, compact layout
9. Proven technology
How it works
The OK mill combines the drying, grinding and separation processes into just one unit, which simplifies the plant layout. And because it operates at a low noise level, outdoor installation is feasible – substantially reducing civil construction costs and improving the working environment.
About SBM
SBM is a professional mining and constuction equipments manufacturer, we provide the whole silver mining program design and equipments, if you need any silver mining equipments, please contact us.