Silver washing machinery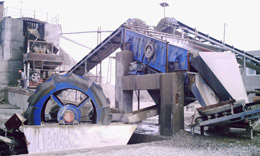 SBM sand washing machine is a kind of cleaning equipment of international advanced level for sand and slag pellets, it is developed on the basis of introducing foreign outstanding technology of the same kind of products.
Sand washing machine is widely used for cleaning materials in the following industries: quarry, minerals, building materials, chemical industry, water conservation and hydropower, cement mixture station and silver mining industry..
Silver washing machinery Features:
1. Simple structure. The bearing device of impeller drive is separated from water and materials with water, to avoid in a large degree that the bearings are damaged by being soaked with water, sand or some polluted things.
2. Being used for cleaning sand in quarries, it has many advantages compared with traditional spiral sand
Silver washing machine:
There is little loss for medium-sized and fine sand and stone powder. The grade and the fineness of the sand for construction after being washed can be up to the national standards, such as sand for construction and cobble and broken stones for construction. There are no other wear parts except the screen mesh.It has longer service life and lower maintenance frequency.