Talc Grinding Machine
Talc Powder introduction
Talcum(French Chalk) Fine Powder Grinding Process After Talcum stone happens of the ground, it typically continues a conveyor belt to some preparation plant that's located on the mining site. The Talcum plant cleans and procedures stone ( washing machine).Then stone were crushed into small ones through primary crushers. Following your materials they fit in to the grinding room with the main equipment, the material is slowly and steadily worn away.
Talc Grinding Machine
In talc powder production line, crushed talc is grinded into powder. Talc powder usually is 200 mesh and 325 mesh, and is used for paper making. The fine talc powder is less than 5 um, and mainly used in Coatings, paints, pharmaceuticals, cosmetics, plastics and other industries.
Raymond mill for talc: Raymond mill is used for grinding talc into powder less than 0.044mm. The complete talc grinding plant includes jaw crusher, elevator, vibrating feeder, classifier, collector cloth deduster and high-pressure blower.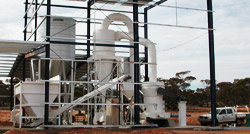 Ultrafine grinding mill for fine talc powder: The fine talc powder is usually 1250 mesh, 2500mesh, and 7000mesh. In order to get fine talc powder, we choose the ultragine grinding mill used as talc fine powder machine. The finished size can be upto 0.005 mm, and the capacity range from 320 kg/h to 6000kg/h.
Vibraitng screen is the essential talc screening machine. It is used in screening process. Ususlly it has three grade:>100mm, 30-100mm, <30 mm.