Chrome ore processing
chrome ore general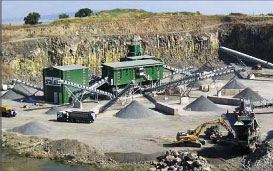 Chromium was discovered by Louis Vauguelin in 1798 and was first obtained, in its elemental form in 1859, by WHOLER. However, chromium as a commercial metal, was subsequently established as a medium for the introduction of chromium into steel, to get the required beneficial effects of Chromium imparted to Steel. Chromium increases the hardness, strength, yield point, elasticity and resistance to corrosion, heat, acid, etc. Therefore, chromium is essentially used for the production of all varieties of stainless steels: Heat & Acid Resistant Steels: Structural, Tools & other special categories of steels. Chromium steels are also used for the manufacture of Ball and Roller bearings.
Chrome ore processing plant
SBM is professional manufacturer of crushing and powder making equipment. In chrome ore processing we provide jaw crusher, ball mill and other chrome processing machinery. SBM Machinery is a research and development, production, marketing, service for the integrated enterprise, and it's a professional supplier of mining crushing equipment and industrial grinding mills, which has independent right of import and export. our products have been exported to more than 160 countries.And successfully achieved ISO9001:2000 Quality Management Certificate and EU CE Certificate.