Chrome ore washing
Chrome ore washing plant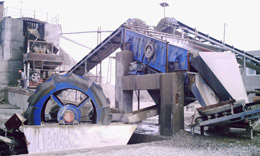 Chromium (Cr) is a heavy metal which has historically been used in a wide range of industrial applications including steel, pigments, wood preservatives, electroplating, metal finishing, dyes, leather tanning, textiles and chemical manufacture.
Chrome washing is a important phase in chrome ore mining, SBM is one of the most great mining machinery manufacturer in the world. Our sand washing machine is widely used for cleaning materials in the following industries: limestone, iron ore, Chrome ore, chemical industry, water conservancy and hydropower, cement mixture station and so on.
If you need chrome ore washing machine or others chrome ore mining machines, please contact us.