Bauxite Crusher
Bauxite crushing machine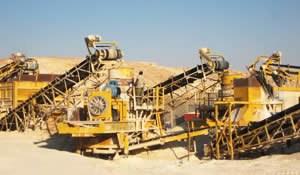 Bauxite is the important materials of aluminum, in which the consumption of this material accounts for more than 90 percent, and is also an important raw material of industry. Bauxite crushing machine (bauxite crusher) is designed for bauxite crushing solution in industries like cement, chemicals, face makeup, soda cans, dishwashers, siding for houses, and other aluminum products.
There are three methods to abstract aluminum from bauxite, in all of which bauxite should be processed into bauxite powder. So bauxite crushers like jaw crusher, cone crusher, impact crusher and mobile crusher plays an important role in bauxite processing and is the first step of this process. Till now, there has been bauxite crushing machines like jaw crusher, cone crusher, impact crusher and mobile crushing and screening machine.
Bauxite crushing process
To process bauxite into raw materials of the aluminum metallurgy and other industries like glass, fire-proof materials, precision casting, silicic acid aluminium fire fibre, ladle lining and concrete, bauxite crusher produces bauxite block into bauxite sand and then bauxite grinding equipments grind it into the right raw powder.
Primary crusher, secondary crusher and tertiary crusher are widely used in bauxite crushing process. SBM supply all these bauxite crusher and can supply you a full set of bauxite crushing production line.
The process of bauxite crushing runs as follow: Tucks transported the bauxite blocks and pull them into the vibratory feeding equipment, where they were feeding into the primary crusher and get processed into smaller blocks. Then the outlets of primary crusher were conveyed into the secondary crusher by conveying equipments (like belt conveyor) and get crushed into bauxite sand. Tertiary crusher is only used when the grinding equipments require tiny inlet size and it bauxite into coarse powder.