Bauxite processsing machine
Bauxite processing equipments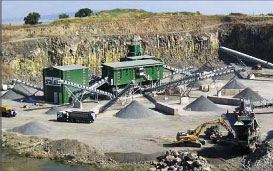 Bauxite processing equipments include bauxite crushing equipment, bauxite grinding machines, bauxite screening and transmission equipments etc. Different scale of crushing bauxite and capital invested matches with different types of ore crusher machines. Bauxite crusher: bauxite jaw crusher, bauxite cone crusher, bauxite impact crusher, bauxite hammer crusher, bauxite gyratory crusher, bauxite mobile crusher or bauxite portable crusher etc.
Bauxite processing line:
Bauxite, the primary aluminum ore, uses the Bayer Process to extract alumina from the ore. The processing begins with crushing to 1-2 inch particles and wet screening, to remove some silica fines, which are generally present with bauxite.
The mined bauxite is transported to crushing or washing plants or to stockpiles. The crude bauxite ore must be beneficiated, first by primary crushing (crushed to -5 cm), then fineness crushing (10 mm maximum) washing and screening, grinding.
The crushed coarse sizes (-3 mesh, -6 mesh, -8 mesh and -12 mesh) and ground powder sizes (-100 mesh, -200 mesh and -325 mesh) go through iron-removing magnetic separators.