Bauxite mining machine
Bauxite Mining In The World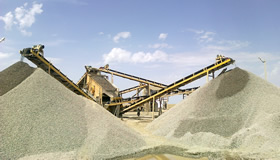 Content of aluminum in the Earth's crust is after oxygen and Silicon. Commercial reserves of bauxite have been identified around the world about 25 billion tons, plus vision reserves total about 35 billion tons. The most abundant bauxite resources reserves in the world are: Australia, guinea, Venezuela, Brazil, Indonesia, India, Vietnam, Cameroon, China, and Jamaica. Processed bauxite widely used in aluminum smelting industry, precision casting, refractory products, etc. and relate to defense, aerospace, automotive, appliances, chemical industry and daily articles and so on.
Bauxite mining machine
Bauxite crusher machine: In the bauxite crushing process, bauxite crusher is used to crush bauxite ore into small particles. Usually, there are there stages of crushing process.
Bauxite washing machine: In the bauxite washing process, washing machine is used to wash away the impurities.
Bauxite grinding mill: In the bauxite grinding process, there are three steps of grinding. Grinding machine is used for grinding bauxite powder with 200 mesh.
Bauxite mining equipments Manufacturer
SBM is a manufacturer of crushers and grinding mills, and supplies bauxite crushers, washing machine and bauxite grinding mill with better service for bauxite beneficiation plant. According to the fact, we choose the right bauxite crusher and grinding mill to design the bauxite mining plant in Canada, China, Australia, India, Brazil, Guinea, Jamaica and Russia.