Bauxite grinding machine
The grinding process of bauxite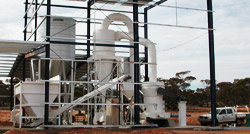 Raw bauxites first enter jaw crusher to be crushed to smaller size. Then they are lift to storage room by elevator. Vibrating feeder will feed materials into grinding chamber evenly and gradually. After being grinded, the bauxite powder will be blowed to cyclone by blower. Then the bauxite powder will be transferred to storage room through pipes, and then will be discharged as final products.
More information, please visit bauxite ore crusher. If the common bauxite grinding plant can not satisfy your need, SBM can design other bauxite grinding plant depending on your bauxite, capacity, final size and other demands. Please believe SBM can supplier perfect bauxite grinding machine and grinding plant for you.
For the bauxite powder grinder machine, ball mill is used. The whole powder grinding system uses loop flow system. Meantime you can select the separator in accordance with the requirements. After crushed by bauxite crushers, the materials are grinded in the powder grinding equipment and discharged to high efficiency separator by elevator. Pulse bag dust catcher is also needed in the whole bauxite grinding plant.

SBM is a professional manufacturer of bauxite grinder machine and bauxite grinding plant. Except ball mill, the commonest bauxite grinding mill is MSB coarse powder mill. Besides, SBM can supply Raymond mill, vertical mill, etc and design kinds of whole grinding plant on the basis of customers' requirement. SBM grinding mill is your best choice of grinding bauxite.