Gravel grinding process
Gravel grinding process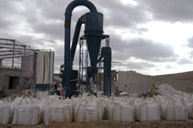 Pulverized minerals are produced at specialized processing plants. These plants supply mineral products ranging from sizes of approximately 1 micrometer to more than 75 micrometers aerodynamic diameter. Due to the specialized characteristics of the mineral products and the markets for these products, pulverized mineral processing plants have production rates that are less than 5% of the production capacities of conventional crushed stone plants.
In dry processing systems, the mineral aggregate material from conventional crushing and screening operations is subject to coarse and fine grinding primarily in roller mills and/or ball mills to reduce the material to the necessary product size range. A classifier is used to size the ground material and return oversized material that can be pulverized using either wet or dry processes. The classifier can either be associated with the grinding operation, or it can be a standalone process unit. Fabric filters control particulate matter emissions from the grinding operation
and the classifier. The products are stored in silos and are shipped by truck or in bags.
In wet processing systems, the mineral aggregate material is processed in wet mode coarse and fine grinding operations. Beneficiation processes use flotation to separate mineral impurities. Finely ground material is concentrated and flash dried. Fabric filters are used to control particulate matter emissions from the flash dryer. The product is then stored in silos, bagged, and shipped.