Gravel quarry equipment
Gravel quarry introduction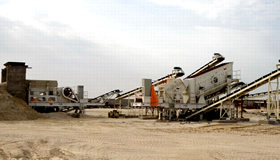 Quarrying in hard rock deposits usually requires different techniques to those employed in working generally unconsolidated sand and gravel deposits. Whilst many of the overall considerations are essentially similar (e.g. establishing a viable resource, determining the available area for development, assessing volumes of waste, overburden and other allowances, identifying the requirements for excavation, haulage and processing plant), there are several specific areas in which different assessment and design requirements are necessary.
Working hard rock quarries is generally a more complicated and intensive process than quarrying sand and gravel. Typically, costs will be higher since technological issues have a greater bearing on the methods of excavation and the types of plant that can be used. Often, one of the overriding concerns in the design process is the operating cost (a function of the quarry scheduling arrangements and plant selection).
Gravel quarry equipment
Gravel is a really hard rock, we provide cone crusher which is perfect for gravel quarrying, if you need equipments for gravel quarry,please contact us.