Gravel processing equipment
Gravel processing introduction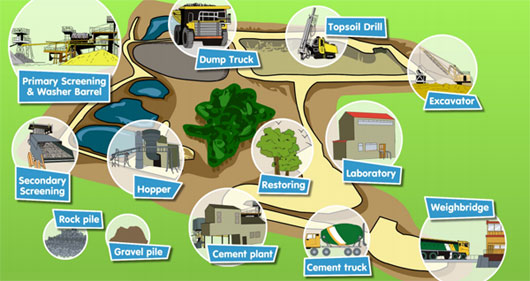 A Topsoil drill used to clear the grass and loose earth from the surface before excavation starts.
The Cement mixing plant produces ready-mixed concrete.
The Dump truck uses a big shovel to move sand and gravel around.
Lorries drive onto the Weighbridge to be weighed when they enter the quarry and again before they leave. Sally Stone, the weighbridge operator, knows the difference in weight which tells her how much material has been loaded.
The Primary (first) Screen and Washer Barrel separate the sand and gravel into different sizes – they're most like a sieve and the inside of a washing machine from your kitchen.
A Hopper is where the shovel dumps the sand and gravel at the beginning of the conveyor belt.
40mm, 20mm and 10mm material is separated at the Secondary Screen.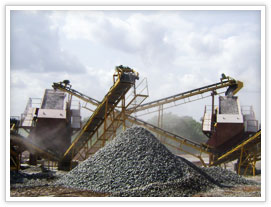 The Gravel stockpile where the gravel is kept after being screened by the Crushers. Restored Land is land that's already been quarried and is now being farmed again. The Excavator is used almost every day of the year, though not always on Sundays Concrete Mixers are really big lorries that deliver cement to local building sites. We test sand and gravel samples in the Laboratory because customers need to know the exact composition of the material they're buying.
This is a sand and gravel pit – so, most of the rocks in its Rock Piles are sedimentary
Gravel processing equipment
We provide stone crusher for gravel crushing processing,vibrating screen for gravel screening,and we provide sand washing machine for gravel washing, and we can provide Spiral classifier, Flotation separator, Wet concentrator, Filter press, Dryer, ect. If you need any gravel processing equipments,please contact us.