Gravel washing machine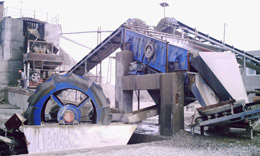 Sand washer is most used as kind of cleaning equipment which is popular in sand making line. SBM provides a complete line of gravel washing plant for the mining and industrial minerals. In many crushing plants, such as aggregates crushing screening plant and gravel sand making plant, you can install this sand washing machine for intensive washing action.
The models of sand washing machine manufactured by SBM include XSD2610, XSD3016 and XSD3620. Its capacity varies from 20 t/h to 180 t/h. The most obvious feature is its water-saving function and high durability. As the leader for supplying crushing equipments, our sand washers have been exported to about 120 countries and won a worldwide reputation for their completive advantages such as simple structure, mid-fineness sand seldom lapses out and high ablution.