Clinker grinding mill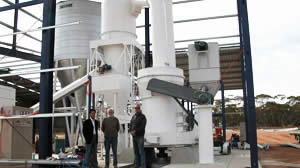 Clinker Grinding Mill is the key equipment for grinding after the crush process, and it is widely used in the manufacture industries, such as cement, silicate, new building material, refractory material, fertilizer, ferrous metal, nonferrous metal and glass ceramics, it also can be used for the dry and wet grinding for all kinds of ores and other grind-able materials.
Cement Clinker Grinding Mill Machines
We provide high performing Clinker Grinding apparatus that's well suited for the efficient grinding from the clinker to make cement. Our Cement Clinker Grinding Plant is composed of Precrusher, feed hopper, Table feeders, Material Handling equipment, Ball mill, Blending and Packing Plant. Our Cement Clinker Grinding Plant can be obtained from 50 TPD to 1000 TPD on turnkey basis. We now have carved a niche as one of the leading Portland Cement Clinker Grinding Plant Manufacturers in India,Nigeria.
Clinker grinding process
1. Open clinker grinding process
Through the clinker grinding delivery material is products. This simple process requires less equipment, less investment, but easy cause serious grinding powder.
2. Closed-end clinker grinding process
The grinding materials for screening classification system. Thick a grinding, in order to reduce large return again ball grinding powder. Closed clinker grinding process can increase yields, reduce the energy consumption and product fineness to control. But the system requires a lot of investment, and complex operation and maintenance.